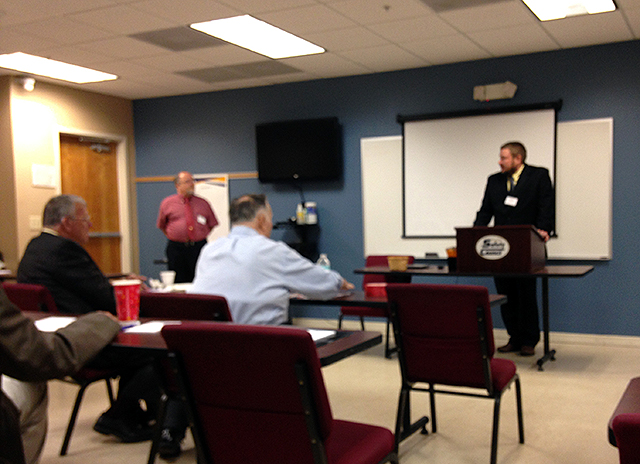 ORLANDO, FL, November 16, 2016 – The DriverEducators.com representatives attended the 8th annual roundtable of the Florida Providers for Traffic Safety. This event is free to attend by any and all persons interested in driver education, and hosted in the central area of the State for convenience of all.
In this meeting various State representatives such as Ray Graves, Chief of Motorist Compliance from the FL DHSMV and Milton Grosz III, FL DHSMV specialist (pictured above) were present providing updated information on the overall performance for the bureau. They also directly interacted with all presents taking questions and suggestions which ultimately assist in providing highway safety.
Also representatives of various other related entities, such as Best Foot Forward for Pedestrian Safety is a coalition (also known as I Yield 4 Peds) initiative had an opportunity to share their work. This is a coalition of civic leaders, public safety officials, engineers, educators, transportation planners, advocates and concerned citizens.
Initiated by Bike/Walk Central Florida under the leadership of former Orange County Mayor Linda Chapin, spearheaded by Orlando Mayor Buddy Dyer and Orange County Mayor Teresa Jacobs, the Best Foot Forward coalition includes Orange County Government, Orange County Public Schools, Orlando Health, LYNX, Winter Park Health Foundation, MetroPlan Orlando, the City of Orlando, Winter Park, Maitland, Winter Garden, Apopka, and towns of Eatonville and Windermere as well as police chiefs throughout Orange County led by Orlando Police Chief John Mina and Orange County Sheriff Jerry Demings.
DriverEducators.com proudly support this initiative and is committed to their long-term goal in cutting pedestrian injuries in half in ten years.